When I heard the term "dark tourism" I assumed it was after-hour's tours and ghost stories. Reading chronologically, I began with Numinous Objects and I thought, "Oh, relics." From Privates to Presidents disabused me. Appreciating the respect shown by curators, seeing the value derived from collection, (DNA for example) and understanding the historic significance of collection, did not keep me from being mortified that any of it was put on public display or that contents are photographed for family members.
Shades of Dark Tourism showed me that, from an academic standpoint at least, there is a debate about "The curious connection between the sad and the bad and their touristic representations has generated academic and ethical debate about the ways in which leisure and pleasure are mixed with tragedy."[1]
Swinging between the macabre and the academic, the remaining articles disturbed me so much that I struggled. Are we actually debating "shades of darkness?"  This is just another manifestation of our fascination with death and brutality. We watch Jihadi John behead victims, or the execution murder of Robert Godwin, Sr. in Cleveland or the brutalization of an impaired young man by four people in Chicago streamed live on Facebook, Twitter or YouTube. We are fetishizing violence and making money, too. Are we learning about the penal system or penal reform, or just having fun getting our pictures taken inside open cells or in front of gallows? Yeah, you can do both, but that sounds like a rationalization.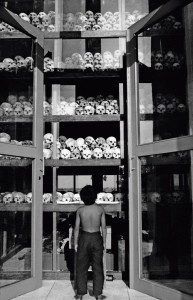 Yes, displaying artifacts for scientific or educational purposes can useful.  "Bodies: The Exhibition" was educational, but I could barely tolerate being in the presence of these specimens and was shocked to see the lack of respect shown by many attending the exhibition.
Auschwitz may remind us of past atrocities, Robben Island of the indomitability of the human spirit, or the Bastille of revolution, but many such sites only serve to celebrate humanities ability to humiliate, brutalize or dehumanize one another.  I saw the interest in dark tourism in opposition to sites like Mount Vernon or Monticello where history is sanitized; slaves are referred to as servants and slave quarters are not displayed because of what they represent. Apparently, that is now seen as a way to attract a new group of visitors. This is exploiting, not honoring the past.
[1] Carolyn Strange and Michael Kempa, "Shades of Dark Tourism: Alcatraz and Robben Island," Annals of Tourism Research, Vol. 30, No. 2, (April 2002), 387