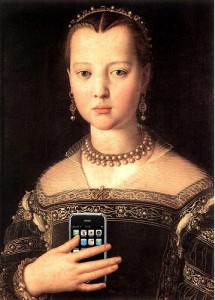 Image by Mike Licht, and used under a Creative Commons license
I've stumbled across some more potential sources of inspiration for your public history projects, papers, and careers.  Here are my latest finds:
Civil War Memory is sort of meta, in that its author (Kevin Levin, a Civil War historian and high school history teacher) comments frequently on the public engagement with Civil War history. In that sense it's just as much about public history as it is creating it. Anyway, lots of interesting stuff there, especially since the Civil War sesquicentennial celebrations are kicking off this year. I like this bit Levin penned for a blog post at the NY Times site:
The ease with which we can access and contribute to the Web makes it possible for everyone to be his or her own historian, which is both a blessing and a curse. The Internet is both a goldmine of information as well as a minefield of misinformation and distortion.
An interview with Jane McGonigal, game designer, at the NY Times. I love how McGonigal thinks about the utility of games, particularly real-world scenario games like World Without Oil. Here's McGonigal's recent appearance on The Colbert Report, in which she argues that playing video games may be, as far as the future of humanity is concerned, the best use of our time:
Seb Chan reports that China Heart, a new web site and free iPhone app, recently launched. Here's the description from the iTunes store:
China Heart is an interactive love story and mystery that uses GPS technology, art installation and performance to explore Sydney's Chinatown. During Chinese New Year 2011, participants unravel a mystery, solving video and real life clues while following a walking tour guided by the app's GPS technology. Starting at the Powerhouse Museum and culminating at the Chinese Garden of Friendship, they will visit significant locations in Sydney's Chinatown and learn about history of Chinese Australians from the 19th century to now along the way.
You might find this book useful–and you can read it for free online: Mobile Learning: Transforming the Delivery of Education and Training.
Participants in The 1861 Project are writing original songs that imagine the human (versus the mythic and epic) experience of the Civil War. Eventually the project will provide space for people to discuss their own connections with the Civil War.
Here's a post about 5 apps that encourage kids to become citizen scientists. Can you imagine an app that encourages kids (and others!) to become citizen historians? What might that look like?