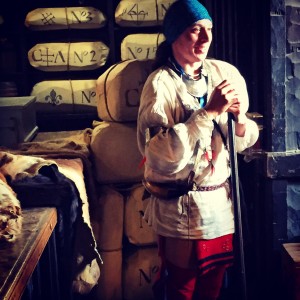 When this picture was taken it was his first day on the job. He explained to us that his garb was representative of what was worn by both Native Peoples, as well as coureur de bois, the Europeans who lived among them as trappers and woodsmen. I offer this tidbit because as Koloski notes that these sort of interactive "performances" made "history/science more fun and interesting" (274). It definitely did for two of my four daughters who not only swooned while he was talking to us, but forced me to take that picture, and returned to his post several times through the afternoon we were there.
A large part of the assigned reading centered around the idea of having an artist in residence at a historical museum. I know several artists, and know that they can be difficult to deal with at times, because some of them believe that they are geniuses, that they could walk on water if they so chose to, and that their idea of art is the only true measure of it. And it is possible that this is the position that some museums have found themselves in. Now mix in a curatorial staff that also believes that they are geniuses, that the artifacts they are entrusted with are theirs, and their interpretation is the only true interpretation of them. Sprinkle in the questions of funding, and other capitalistic nonsense, and you have a recipe for disaster. Unless everyone is willing to talk, discuss their ideas, and what they want to get out of the exhibit.
I fail to grasp the inclusion of a never-before-seen episode of Sanford and Son. Was it included to be a counterpoint to the general acceptance of StoryCorps? StoryCorps offers a heavily edited message aimed at a specific (NPR/PBS) audience. Similarly Sanford and Son was also aimed at an audience. I think where we as a society have progressed (or maybe we haven't) is that the Sanford and Son episode is included here, as are the excerpts of StoryCorps that are deemed too risqué for general consumption.