In an ever-more digitizing society, the work of a digital archivist is growing.  I sat down with Jim Duran to discuss the job of a digital archivist and how the field is changing and what it takes to be a digital archivist.
Duran has worked in the Boise State University Special Collections since 2007, and been the Digital Archivist since 2015.  He began his career as a library assistant for the BSU Special Collections while working to obtain his undergraduate math degree.  He enjoyed working at the library, and his interest in history was peaked through classes and interactions with history professors in the Residential College housing program.  His choice to study history was further influenced by his interest in cause and effect, agency, social systems, and opportunities to teach people who are interested in history.  More specifically, with archives, Duran enjoyed organizing things and having the ability to save history from obscurity.  Duran decided to pursue a career in libraries, graduating from the Boise State Master of Arts, History program in 2013.  He is currently working on his Master in Library Science degree, a requirement for academic archive personnel.
Having been involved with the BSU Special Collections during his undergraduate career, Duran wanted to continue working there for a number of reasons.  First, as a Boise State alum, Duran liked the Boise State community, campus, and city of Boise.  Secondly, working for a smaller archive with fewer staff allowed for more freedom when exploring different aspects of archives.  Lastly, the location of Boise as a capital city offered opportunities to collect political papers and corresponding documentation, which could provide multiple perspectives on historic and current events.
As a digital archivist, Duran's day is usually spent working with students, staff, and the public, providing access to materials, managing interns, and processing new donations.  Additionally, he digitizes audio/visual materials by converting obsolete formats to digital, facilitates duplications since materials cannot leave the area, and creating digital collections.  Since 2015, a major part of the job has been website development.  That entails creating websites for content management, which make existing digital collections accessible online.  The focus for such collections has primarily been University archives and regional papers from Southwest Idaho.
For those interested in history and archival careers, Duran offered up some sound advice.  In history, he advised that finding non-profit organizations to work with is a major advantage.  Many grants require non-profit involvement, so finding a non-profit that shares your passion for a certain subject increases your probability of obtaining a grant.  As historians, many times we are required to write with a specific client or audience in mind.  His advice is to practice writing for different audiences as much as possible.  In reference to archives, his advice was to volunteer and intern to gain experience.  As the field turns more and more digital, he also offered to consider learning a coding language.  For those interested in archival work, the standard for academic libraries is a Masters in Library Science, as they will most likely be teaching.  The standards for non-academic libraries are a little more relaxed.  Some helpful skills are knowledge in the certain styles of processing collections, computer guidelines in describing collections, and familiarity with systems that manage digital content.  Additionally, skills associated with negotiating with donors, attention to detail and organization, and an ability to relate what people are looking for with what is available are desired.  Duran further emphasizes an awareness that the work you perform is permanent and meant to last a long time.  One of the challenges that he faces regularly is that there are no standards for how to archive and preserve digital materials.  The policies for such practices are still being written for digital collections.
Since 2011 Duran has also been a side project historian, usually employed through the City of Boise Arts and History Department.  He enjoys the variety of the side projects and their ability to spice things up.  It was through this collaboration with the City of Boise Arts and History and with the Boise Public Library that Duran published a book about the history of the Central Bench.  The book was a success, provided history on a relatively unknown subject, and was a fun way to support the Central Bench neighborhood.  The book was so well-received, that the first printing of 1,000 copies was gone in three weeks.  As a side historian, Duran's projects are almost always related to neighborhood associations and grant funded.  When on a project, he devotes about 10-20 hours a week to research, writing, interviewing people, and presenting his findings.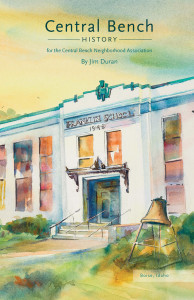 My favorite section of the interview was devoted to the projects that Duran is proudest of.  He mentioned his Central Bench History book, his Photo Services Negatives Collection, and his Master's thesis.  The Photo Services Negatives Collection involved over half a million photos on two obsolete content management systems.  Duran was able to migrate data to access it and preserve the digital content.  This project is an example of why Duran likes working in archives.  He states that, "Archives can be very rewarding if you enjoy preserving history and helping people discover it".  His Master's thesis was focused on the Morrison-Knudsen construction company based in Boise, and its connection to Cold War era Afghanistan.  Duran discovered that not much research had been done on the subject, conducted interviews of past employees, and became the expert on Morrison-Knudsen.  He was contacted by the BBC, the Washington Post, and others to discuss the company.  Duran created a professional niche for himself and is particularly proud of his thesis for that.
In an age increasingly digitizing, the work of Jim Duran will not cease any time soon.  His interview shed light on the roles of archivists in preserving digital content, and what it takes to enter the field and be successful.