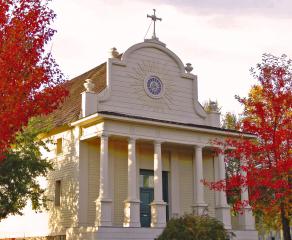 My interview was with Kathleen Durfee, the park manager of the Coeur d'Alene Old Mission State Park. Kathleen has worked for the Idaho Parks and Recreation Department since 1990 when after getting her bachelor's degree she took a summer job while deciding whether to enter Master's school. She so thoroughly enjoyed her experience that she decided to stay on with the Parks Department and has remained there ever since. Although there have been ups and downs in her career, including having her position completely removed in 2008 leaving her scrambling for another, her experience with the Parks Department has allowed her to be apportion to four different parks throughout Idaho.
I found her description of the Coeur d'Alene Old Mission Park absolutely fascinating. They have the oldest standing building in Idaho, the Mission of the Sacred Heart erected between 1850 and 1853, as well as 5000 ft2 museum that houses around $10 million in artifacts at any given time.[1] Her job as manager includes the upkeep of both of these buildings, especially the mission itself which requires experts and the interaction of multiple historically based groups to be worked on, as well as the entirety of the parks other amenities including picnic areas, restrooms, a gift shop, and much more. Another one of these duties includes the maintenance of the trail of the Coeur d'Alenes, a 72 mile trail that was established by a joint venture between the Coeur d'Alene Tribe, Union Pacific Railroad, the U. S. Government, and the State of Idaho.[2] She also organizes a fourth grade fieldtrip for all the children in three towns and eight cities in the area. For Kathleen, there is no such thing as a normal day.
Due to the nature of the park and the area in which it is run, Kathleen deals with a myriad of local, state, and federal organizations. Not only does she deal with her own organization, the Idaho Department of Parks and Recreation, on many of her projects, she also deals regularly with the Idaho Panhandle National Forest service, the Coeur d'Alene tribe, Heritage Trust, the Environmental protection agency, the University of Idaho, and even on occasion the Smithsonian Museum as well as other large influential museums to keep a good rotation of the exhibits. She had recently returned to the Smithsonian a full dress of "Buffalo" Bill Cody that she had on exhibit for a few months. Working with such a large number of groups, each with different ideas and ideals, means that Kathleen is remains a busy woman year around.
When faced with the issue of hiring new help Kathleen repeatedly stated that the number on attribute that she looks for is a good hard work ethic. Both in her seasonal employees and the park rangers that she hires, Kathleen said, " We can teach them almost anything except the willingness to work hard."[3]Above and beyond work ethic, she also looks for specialized skills that are needed from time to time around the park, such as ability to work with computers, communication skills, and mechanical, or other maintenance/restoration skills. With regard to advancement in the field, education is generally considered a bonus but much of the deciding factor is hard work and following of the training goals program that each employee is given with their career goals in mind.
One of the largest problems facing the Idaho Department of Parks and Recreation is funding. Kathleen herself, after her position was eliminated in 2008 by budget cuts, has been worried for her job and became the manager of the Coeur d'Alene Old Mission Park in order to retain her employment status with the department. She said that by cobbling together money from the parks passes, a $1 charge to fourth grade students, viewing fees, and expansion of the gift shop, the state has managed to keep most of the parks open and a majority of the positions active even through a 2008 budget cut from nearly $14 million to a measly $1.4 million a year. This idea of doing more with less has become a motto of sorts for the department in recent years.
The interview with Kathleen allowed me to enter a world I have much interest in but, until recently, understood very little about. The history of and prospects of future budget cuts, the massive number of organizations, and astonishing value of the artifacts and land at their disposal was truly eye opening. At the end of the interview Kathleen stated," No one joins the Department of Parks and Recreation to get rich, but they do join to live a richer lifestyle."[4]
[1] "Coeur d'Alene's Old Mission," Idaho Department of Parks and Recreation, accessed Feb 9, 2017, https://parksandrecreation.idaho.gov/parks/coeur-d-alenes-old-mission.
[2] "The Trail of the Coeur d'Alenes," Idaho Department of Parks and Recreation, accessed Feb 9, 2017, https://parksandrecreation.idaho.gov/parks/trail-coeur-d-alenes.
[3] Kathleen Durfee (Manager of Coeur d'Alene Old Mission State Park) in discussion with Eric Overzet, February 2017.
[4] Ibid.