The topic of slavery is a difficult one regardless of background and personal experiences.  I agreed whole-heartedly that Americans know little about history, slavery in particular.  My own experiences attest to that.  I attended K-12 grades in California and Nevada, much removed from issues concerning the Civil War, segregation, and slavery.  I received the standard glossed over narrative of the Civil War and the Civil Rights movement.  Last semester, taking the History of Race and Rights class, I was embarrassed by the amount of information that was unknown to me.  I left that class with a much deeper understanding of contemporary issues that others are clueless about.  I know I'm not the only one with this experience, and I think it shows the holes in public education.  I also agree with the statement that history must be taught in various non-academic settings.  Many of the examples shown in the book represent exhibitions appearing on the eastern side of the country.  That is problematic because it further distances the information from people like me, who have never traveled east of Utah (besides Florida, but it was only for a day so I don't count it).  It's important for these exhibits to tour the country to reach people who otherwise would only receive the national educational standard version of the South, supplemented by Gone With the Wind.  Although I wonder if it is futile to try to reach the Southerners who so deeply believe that the war isn't over and that slavery did not cause the Civil War.
Within the reading I was interested in how the power of places was presented.  This was profoundly present in the Williamsburg slave auction and with "Back of the Big House".  By removing Williamsburg from the slave auction, and replacing it with a mall, the power of the dramatization is completely lost and becomes a farce.  It amazes me that when planning such an event, people were blind to the lost context that came from the site itself.
I'm curious how the opening of the National Museum of African American History and Culture last fall has presented the difficult topic of slavery and subsequent Jim Crow oppression.  I have not heard much outcry, which makes me wonder if it's not as "shocking" as it should be.  Like the book suggests, race and slavery within American memory risks provoking defensiveness and confrontation.  I'm also curious if the museum utilizes any participation elements that we've previously discussed.  I would hope that whites take advantage of the opportunity to visit the museum and hopefully fill in some of the gaps in their understanding of history.  It is so important to continue to find ways of discussing race and slavery.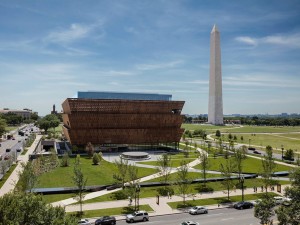 I think it's also noteworthy that the museum is on the National Mall down the road from monuments and buildings honoring the very men who owned slaves.